media_content.tooltip.skipped
Why We Are Drawn to the Mountains
A mountain hike is more than just about getting from A to B. Austrian extreme mountaineer Peter Habeler once said: "To walk, move, climb a mountain and get back down again – that is a parallel to life."
Allow us to take you on a thought-provoking hike that led us from Innsbruck through part of the Karwendel mountain range and ended quite differently than planned. Because, as Habeler said, hiking has a lot in common with life.
media_content.tooltip.skipped
Those Who Climb a Mountain Leave the Everyday Behind
Backpack packed, hiking boots laced, we walk through the centre of Innsbruck. We would be a rare sight in our outdoor clothing in some cities, but no one bats an eyelid here. It is almost part of the townscape in this alpine city, as is the Hungerburgbahn funicular station. We climb aboard in the city centre and travel up towards the Hafelekarspitze, the Nordkette's highest summit at 2,334 m (7,658 ft).
And as we gain ever more distance from the people and houses, something else happens as well: everyday life becomes increasingly distant. Because the daily routine takes place down there in civilisation, but we are heading towards somewhere people have been drawn to for generations: the summit of a mountain.
media_content.tooltip.skipped
In the shortest time, everything that seemed important and urgent just moments ago becomes smaller and less significant, albeit just for that moment in time.
In the words of Austrian mountaineer Heinrich Harrer: "When I leave civilisation behind, I feel safe."
Or even more dramatically, as Austrian Alpinist Hermann Buhl said: "We live in a time in which our freedom has been taken by government regulations and social rules. You look for a way out of this straitjacket of civilisation and escape to the tranquillity and seclusion of the mountains."
Interestingly, he made these comments back in the middle of the last century, so mountains symbolised freedom in those days as they do now. This is confirmed by a quote from Austrian mountaineer Gerlinde Kaltenbrunner, who heads to the mountains to leave the everyday behind:
media_content.tooltip.skipped
Up here, I feel free and can leave all responsibilities behind. I have a different attitude towards life when I am in the mountains and not in the valley. Mountaineering is my life.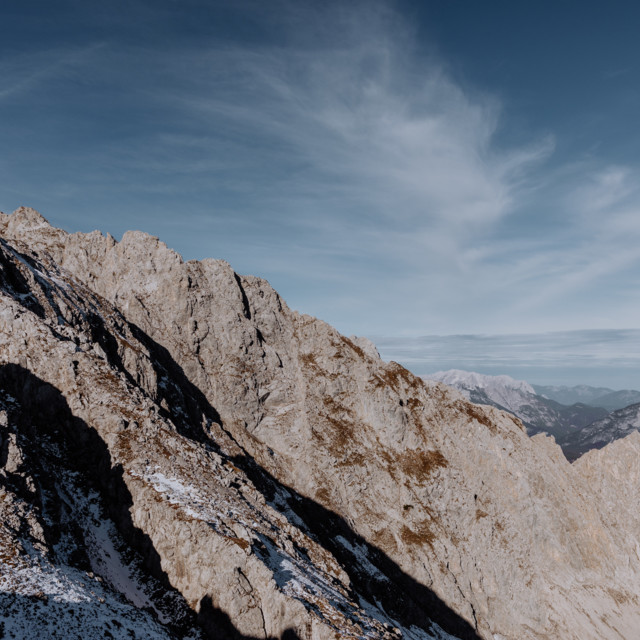 media_content.tooltip.skipped
In the Mountains, We Find Authenticity and Honesty
The sun is shining, there is a pleasant breeze and we are surrounded by giants. The impressive mountain backdrop draws many a superlative from our lips. We follow the narrow path and marvel at the rugged and bare mountain landscape. The trail falls steeply time and again, with unspoilt nature all that can be seen. The Karwendel mountain range mainly consists of limestone and dolomite, giving it an archaic, primal character. This reflects what has always fascinated mountaineers: honesty, authenticity, and a place where there is no wrong.
It is no coincidence that we perceive individual mountains to be sacred. Mount Sinai plays an important role in Christianity. This was where Moses received the Ten Commandments from God. Mount Kailash is considered to be so holy in Eastern religions that you are not allowed to climb it to this day. Mount Olympus was home to the Greek gods and Aboriginal Australians worship the Uluru (Ayers Rock) as a place of spirituality – the list of holy mountains is long. Mountains are also glorified away from religion, ever since the emergence of mountain tourism in the middle of the 19th century – and we all uphold their glorification on Instagram.
media_content.tooltip.skipped
A Shared Mountain Adventure Filled With Memories
The approaching Pfeishütte lifts our already good spirits. We are looking forward to delicious dumplings and a refreshing drink. We while the time away with laughter, daydreams, and making plans. It's funny how our sense of community becomes stronger here, where it is just the two of us. It is often easier to connect vis-à-vis in remote settings such as a mountain region than it is when surrounded by people. Community has little to do with the size of your group or the number of people to be found somewhere, but far more with the absence of distractions.
But we must have dreamt and laughed too much along the way, causing us to lose track of time, and then spent too long enjoying the sun on our faces in front of the Pfeishütte hut. It is the cheerful waiter who brings us back to reality. The last cable car is to depart in just one hour. "There is no way you will make that." But there is a path, although it is steep and leads across hundreds of metres of scree fields. It is quite adventurous, you might say. Well, what other option do we have? But, as we know, a mountain hike has lots to do with life. And when hiking it's as in life: an adventure often begins where there is uncertainty.
media_content.tooltip.skipped

media_content.tooltip.skipped
Everything went well in the end. We reached Innsbruck and all that it offers for the sore muscles that were to be expected the following day. But also with a deep satisfaction and happiness, and the realisation that lasting memories are mostly created when things don't go according to plan; because we still talk about that day in the Karwendel Mountains, months later.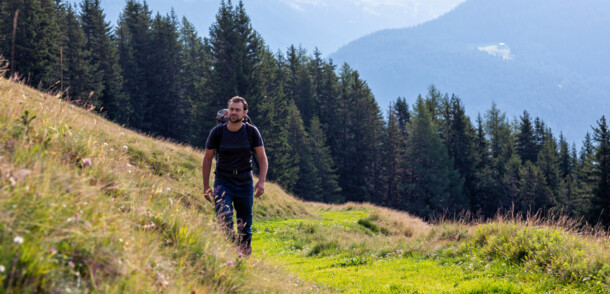 -
media_content.tooltip.skipped
Martin Hoch, Travel Journalist
Swiss travel journalist Martin Hoch travelled the world for more than seven years, his travels shaping the work he does today. It is Martin's love of nature that drives him on. As a freelance journalist, his work is regularly published in newspapers and internationally renowned magazines.
You might also be interested in...